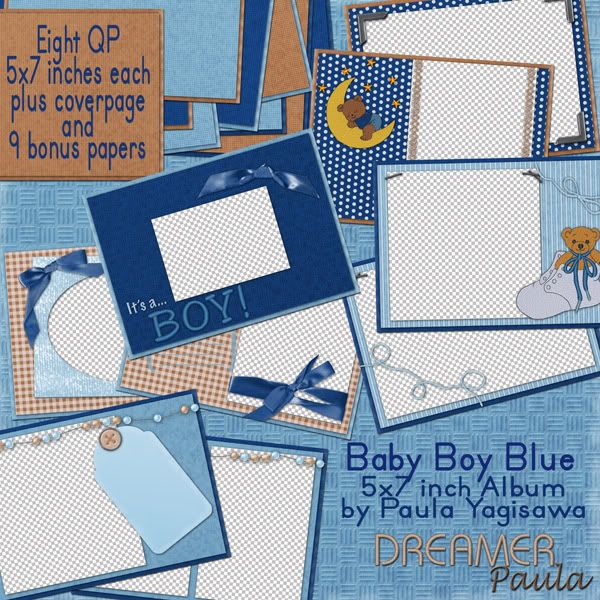 If you are like me, you are wanting to take advantage of some of those special deals on printed books or albums. But, some of them are in sizes different than our typical pages. One of the popular sizes is the 5x7 album (often for a really great price); so I decided to create a set of quick pages to make it super fast and easy to create an entire album for printing! With each set, you get: several matching pages (they look great side-by-side in the book), a bonus with the picture opening centered (fits most of the albums I've seen), and additional "papers" so you can add extra pages as needed.
*** On each page and paper, I've included a background behind the main area. This is attractive as is, but is actually included so that you don't have to worry about the printer cutting off a small portion of each page! Also, it gives a consistency to your album.
This set was created with Baby Boy Blue and is perfect for your little one's baby book. With 18 total files, you have a great start to a stand-alone album or plenty of pages to add into any other album. The papers are in .jpg format and can be used simply by adding journaling and/or pictures - or you can use the matching full sized kit to embellish your pages.
Included:
9 easy to print .png files - 5x7 inches each and 300 dpi
9 additional .jpg papers
Available at:
Digitals
Divine Digital