Puddle Jumping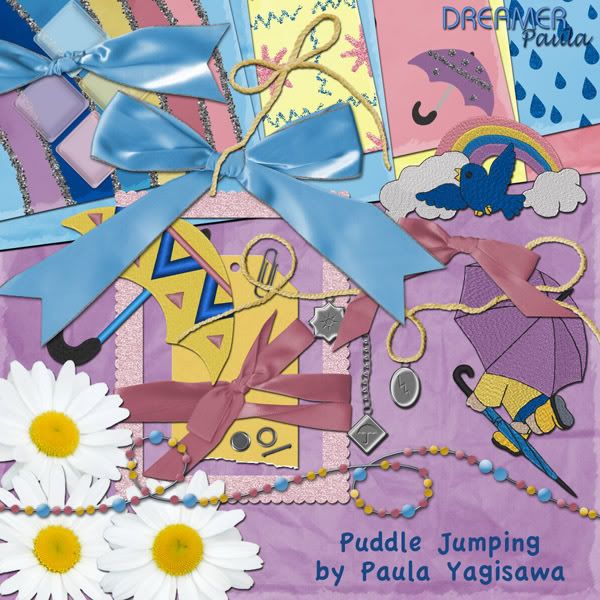 I've been asked for a while to do a kit for those fun "playing in the rain and rain puddle" type pictures. Well, it finally seemed the time and I am thrilled with how wonderful it turned out! If you are looking for a kit that is perfect for those spring days of the rain and the sunshine that follows, then this is the perfect kit for you. The colors are suitable for boys and girls with fun embroidery and lots of glitter. This kit is a great addition to any scrapper's collection!
Included:
4 glitter patterned papers
1 cloud paper
4 solid and wrinkled papers
3 embroidery elements
2 large blue ribbon elements (with glitter edges)
2 pink ribbon elements
2 yellow yarn elements
1 strand of beads
3 daisies
1 tag
1 frame (perfectly fits with the pink wrap)
4 pieces of hardware (brad, eyelet, staple, and paperclip)
3 charms with one chain
4 acrylic diamond shaped pieces
Available at:
Divine Digital
Digitals
Puddle Jumping Quick Set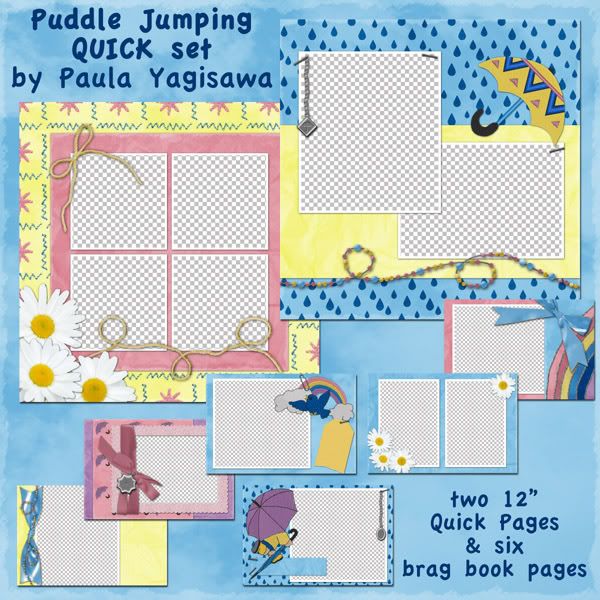 Raindrops and sunshine fill these adorable quick pages and brag book sized pages. This grouping of .png albums is full of options! With two pages that are 12x12 inches and six brag book sized pages, you'll be able to quickly create lots of fantastic pages for your albums!
Available at:
Divine Digital
Digitals
Here are a couple Sample Layouts with the Quick Set!
Layouts by Dreamer Paula