Available at Digitals
This mini kit (and the remainder of the mini kit series) is all about actions. You know…. VERBS! I don't mean those pesky little "state of being" verbs - I'm talking about the ones where someone is really doing something. When someone wants to make changes or improvements in their life, they need to put a verb to work. So, I invite you to put a verb in your layout when you scrap.
"Put a verb it it - Sports" is all about, well, sports. I tried to pick words that could be used with multiple sports or activities. Many of the words work equally well for game playing or other challenging activities; activities where you compete against another person or team or even those where you are simply competing with yourself. So, this kit works great for those with the star athlete to scrap about - or for those that are cheering from the sidelines!
The words in this kit include: achieve, catch, cheer, compete, excel, flip, improve, run, score, ski, throw, and win.
Also included is a bonus template created by my friend Monica. I just love the creativity of her templates and I hope you like it too!
Included:
7 Papers
2 frames
5 bead elements (each one unique)
2 flower stickers
5 brown ric-rac elements
1 journal sticker
12 VERB stickers
1 torn paper mat
1 template
*** All of my kits, elements, and templates are now S4H friendly!
Additional Images: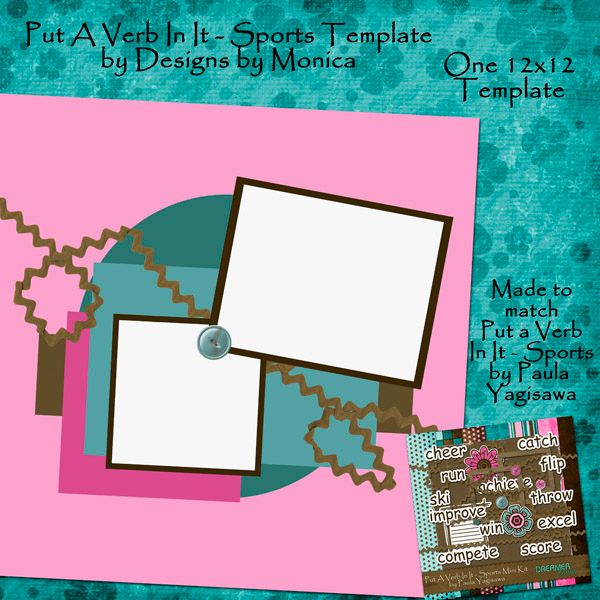 Sample Layout by Monica: