Ballet Bear in Pink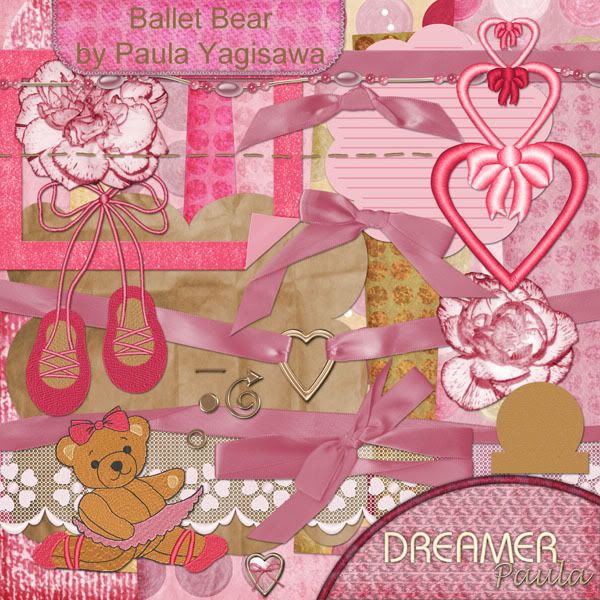 This sweet little bear is so proud of all she has learned. She likes to dance and spin and twirl around! She'll look perfect dancing across your pages about your little ballerina dancing. Perfect for little girls that just love to dance as well as those that take classes and dance on a stage.
Included:
9 pattered papers
3 embroidery elements
1 length of embroidered lace
4 hardware pieces - brad, eyelet, staple, and arrow
1 pink button with bow tie
1 scalloped journaling paper
1 tab
1 frame with folded corner
1 paper bag shape
2 carnations
1 line of stitching
1 string of beads
5 pink satin ribbon elements - straight, twisted, bow, knot, wrap, and length with heart charm
Available at:
Digitals
Divine Digital
Ballet Bear in Purple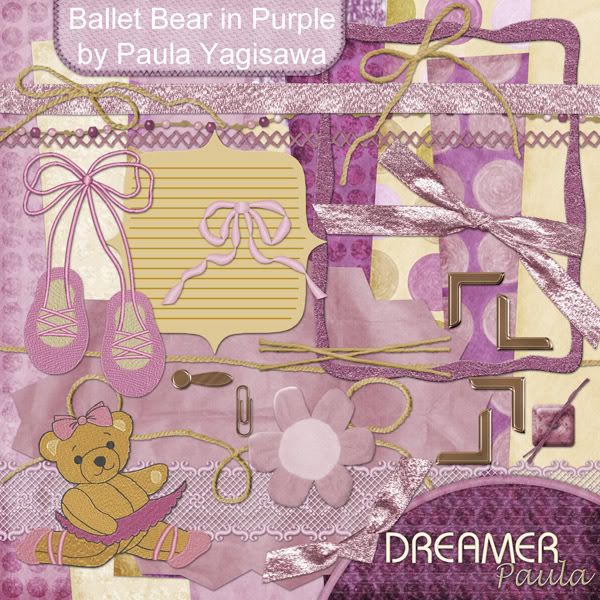 After creating my Ballet Bear mini kit, one of my friends asked, "Where is the purple?" So, I was inspired to create this second ballet bear mini kit. I took the same creams and browns from the first kit along with the pink accent color - but I added purple to the mix and tinted the pink just slightly toward a lavender shade. The results are absolutely darling! If your ballerina loves purple as much as I do, then she will love this kit!

Included:
9 pattered papers
3 embroidery elements
1 length of embroidered lace
6 hardware pieces - paper clip, prong, and four corner pieces
1 purple button with tie
1 bracket shaped journaling paper
1 frame with glitter finish
1 paper bag shape
1 fabric flower
1 line of stitching
1 string of beads
3 metallic ribbon elements - straight, bow, and knot
5 tan yarn elements - length, twisted, 2 bows, and a wrap


Available at:
Digitals
Divine Digital
Sample Layouts with these Great Kits!
Made by GrandmaBev
Made by GrandmaBev