This spoook-tacular kit is perfect for all of your halloween needs - I've covered everything from cute ghosts to "scary" spiders! With traditional halloween colors and plenty of pumpkins, ghosts, and other spooky characters, you'll be able to make LOs for your youngest to your oldest halloween fan!
For a super fast and fun LO, try inserting pictures into the opening of the haunted house! I've made the cutouts so large that you'll probably find yourself reducing the size for many pages.
Special thanks to acmdesignz for the use of the rusted metal style.
Included:
15 papers with light grunge effect
5 colors of ricrac
5 colors - straight twill tape
5 colors - crazy folded twill tape
5 colors - twill tape knots
5 buttons with 5 optional button stitching
Cutouts: 11.5 inch tall haunted house, 2 witches, and a large bat
9 embroidery elements
Rusted hardware: brad, eyelet, prong, staple, and paperclip
10 lines of page stitching (2 styles - 5 colors)
5 round tags - metal matches hardware
Available at:
Currently not available - coming back soon!
Sample Layout by Beverly: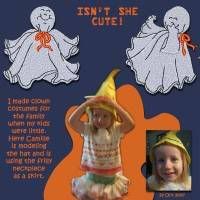 Sample Layout by 2boysmom:
Sample Layouts by Lorraine: