Blue Jeans & Butterflies Mini Theme Kit
How much blue jean fun can I pack into one small kit? - a LOT! With denim papers and blue jean pockets, I've loaded it with the texture of America (and the world). Then, what girl's blue jean wardrobe would be complete without the addition of butterflies? So, I've added embroidered butterflies that look so much like the ones my oldest daughter had stitched to her jeans when she was young! Tags, stitching, ribbons, gel butterflies and even beads just add to the fun!
Included:
9 papers
2 denim pockets
2 embroidery elements
3 tags
2 lines of straight long stitches
2 lines of cross stitching
2 ribbon knots
2 ribbon wraps
3 gel stickers
1 string of beads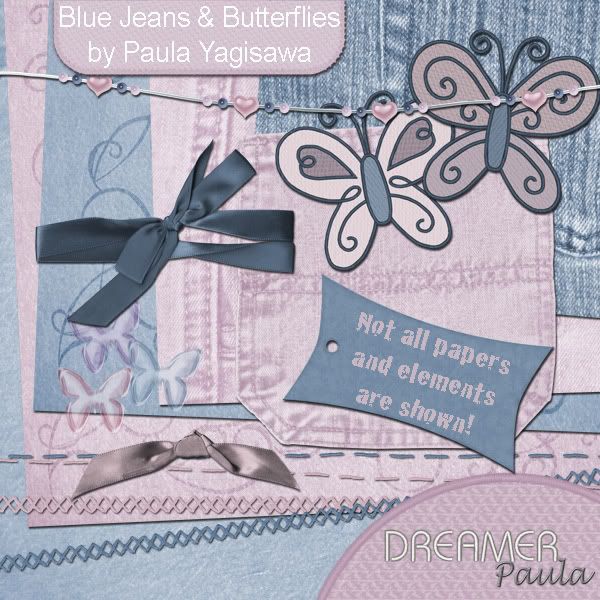 Available at:
Digitals
Divine Digital
Blue Jean Clusters
If you love blue jeans and convenience, then this set is for you! I've made four "clusters" that are each 12 inches wide by several inches tall. They are basically a quick page without a background. But no worries - I've also included five papers! So, these can be mixed and matched to create 20 combinations!!!! If you use them along with the Blue Jeans and Butterflies Mini Kit - you'll have even more variations!
Included:
four 12-inch wide clusters
five denim backgrounds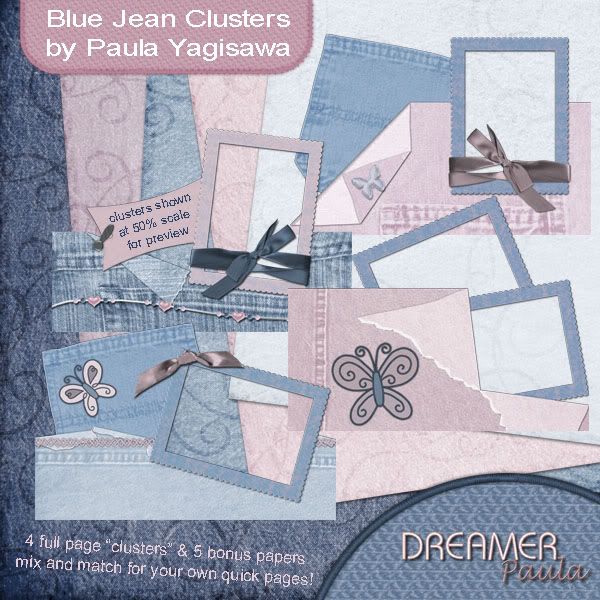 Available at:
Digitals
Divine Digital
Denim Dreams Mini Theme Kit
More denim and blue jean fun! This kit has frames and fun patterned papers - along with buttons, cord, and loads of embroidery! Use this alone or along side of Blue Jeans and Butterflies. This is a great addition to your scrapbook stash!
Included:
9 papers
2 frames
4 embroidery elements
4 buttons
4 glitter elements
9 cord elements (3 colors - 3 styles)
Available at:
Digitals
Divine Digital
Denim & Lace Alpha
While creating my "Blue Jeans and Butterflies" kit, I had this idea for an alphabet... and I just had to see if it would work out. The results are as wonderful as I could have imagined! Each large letter/character is a base of denim with the stitching and seams included. Then, I added a bit of digital lace and some digital jewels scaled perfectly for the letter. These letters are so big you'll find yourself needed to reduce their size most of the time - but when you want them big... they are big!
Included:
full upper case alphabet
full set of numbers
six extra characters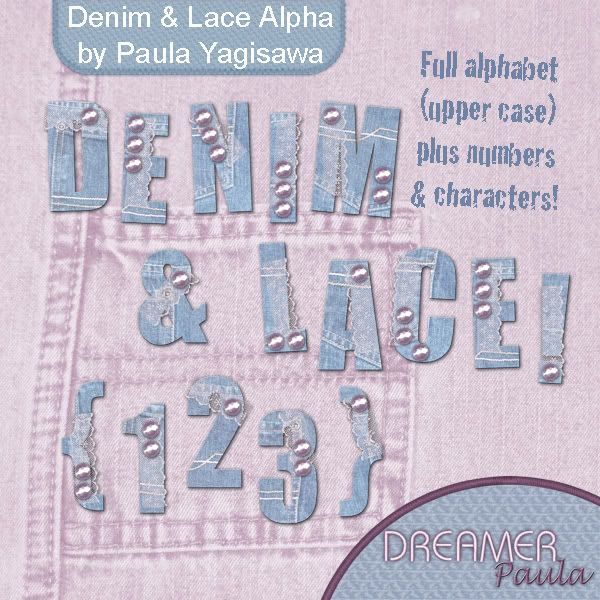 Available at:
Digitals
Divine Digital
Denim Brag Book
These six fun brag book pages are so easy to use - and since they match my series of blue jean and denim kits, they are perfect for all those "denim" pictures!
Available at:
Digitals
Divine Digital
Sample layouts by Lorraine: