Available at
Digitals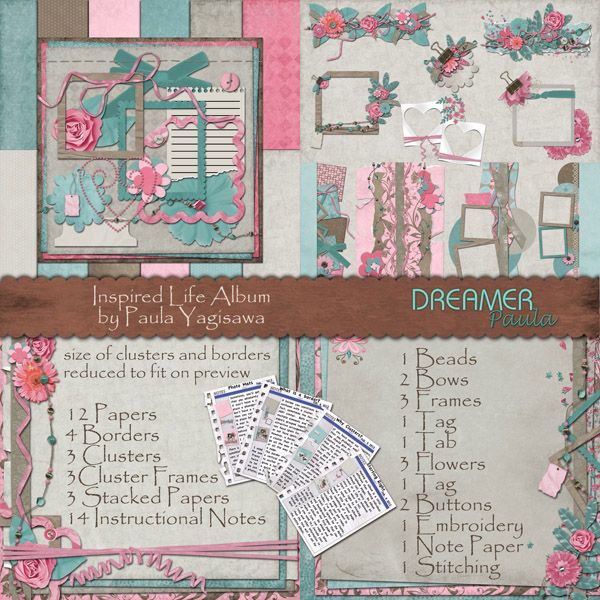 I hope that you and those you love are living a truly INSPIRED LIFE! One where you feel creative and loved and have others to share your life with. I guess I was feeling a little inspired myself with these beautiful colors and I've created several things for your scrapping pleasures.
This album set is more than just a grouping of clusters and papers. Designed as a 14 day event, you'll get a total of 42 items and 14 lesson notes to help you create your own beautiful album. It is filled with clusters, borders, stacked papers, along with solid papers and some extra elements. You'll be able to quickly and easily make a whole album about your "inspired life". The lesson cards help you to grow in your scrapping skills as your work your way through them; even experienced scrappers can learn something new here!
Included:
12 papers
4 borders
3 clusters
3 frame clusters
3 stacked papers
1 strand of beads
2 bows
3 frames
1 tag
1 tab
3 flowers
1 tag
2 buttons
1 embroidery element
1 note paper
1 line of stitching
*plus*
14 instructional note cards
*** All of my kits, elements, and templates are now S4H friendly!
Additional Previews: