Darling Dinos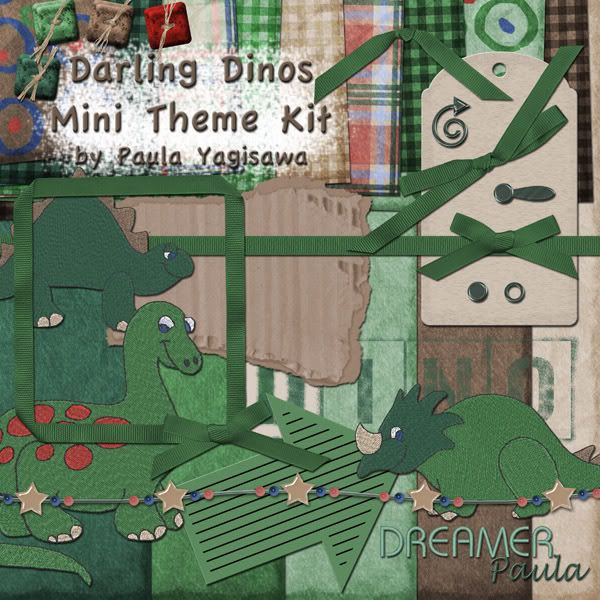 It sometimes seems that just about every little boy (and some of the girls too) go through a phase where they LOVE dinosaurs! This kit stars my three "darling" little dinosaur friends that want to great your photos with bright smiles. The papers and elements are just as cheerful and fun. The perfect compliment for your creative scrapbooking needs.
Included:
9 pattered papers (nice variety of styles)
5 solid papers - all papers have woven texture and wrinkled finish
3 embroidery dinos
"stamped" DINO art
1 strand of beads
1 piece of cardboard
1 tag
arrow journal paper (mirrored version also included - so each has proper lighting source)
4 pieces of hardware - brad, eyelet, prong, and arrow
4 square buttons - all tied with cream floss
5 green grosgrain elements - straight, knot, two bows, and a frame with bow
Available at:
Digitals
Divine Digital
Darling Dinos Brag Book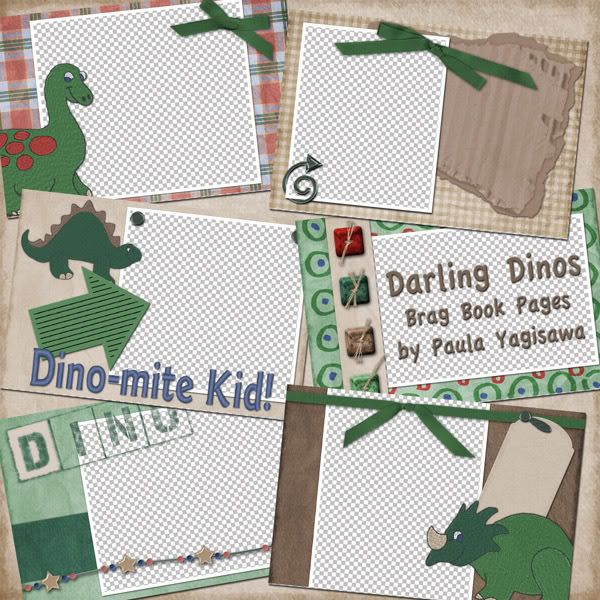 My adorable dinosaurs and the fun papers and elements from my Darling Dinos mini kit work together perfectly to create these fun pages that are perfect for printing and sharing! Your child doesn't have to be passionate about dinos to enjoy the cute characters on these brag book pages. This grouping is the perfect addition to your brag book album!
Included:
6 easy to print png files - 4x6 inches each and 300 dpi
Just add your pictures and journaling and you'll have pages ready to print!
Available at:
Digitals
Divine Digital