Welcome to the Digitals Countdown to the New Year Blog Train (and the continuation of my month of freebies).
Happy New Year - 2010 --- Here's hoping it is a wonderful year for everyone!
Today, you get this FULL set of templates in psd and png formats! Each page is 12x12, but you can manipulate them to be different sizes if desired. You could even use them without the calendar portion if you want to make regular pages. Special thanks to Monica for putting these templates together for me.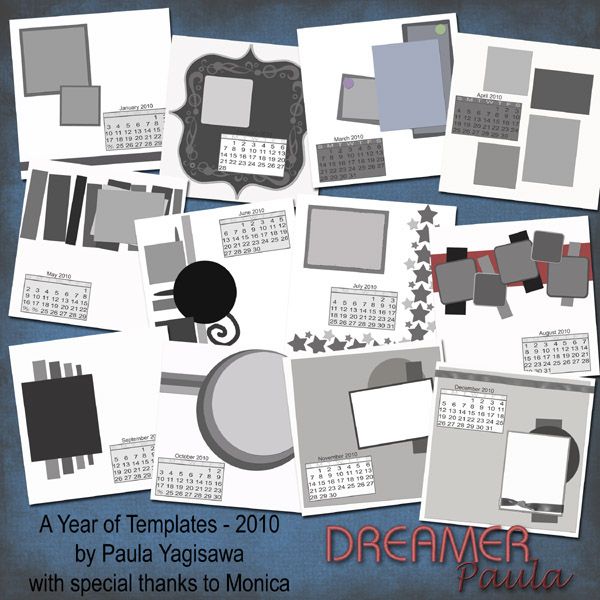 Link Removed - but make sure to visit often as I will have a new freebie up in the next few days!
Make sure to visit all these other blogs from the designers at Digitals!
Alessandra Designs - http://www.alessandradesigns.blogspot.com/
Amanda Thorderson- http://flamingo-amanda.blogspot.com/
Beth Rimmer - http://www.bethscreativechaos.blogspot.com/
Cyndi Wettmiller/Wetfish Designs - http://wetfishdesigns.com/blog
DeDe Smith - http://designzbydede.blogspot.com/
Joyce de Jonge - http://joycedejongescrapbookdesigns.blogspot.com/
Juliana Gordon - http://www.julianablogs.com/
Kathryn Estry - http://kathrynsdigitaldesigns.blogspot.com/
Lifesong Kreations - http://lifesongkreations.com/
Michelle Pieters - http://michellepieters.blogspot.com/
Nini's Notions - http://ninisnews.blogspot.com/
Scrap4Brains - http://scrap4brains.blogspot.com/
Silvia Romeo - http://www.silviaromeo.blogspot.com/