We are having a Christmas in July Facebook; Blog Hop and Store Wide Sale!
Be sure to visit all these designers' Facebook pages between July 24 and 31 to get an exclusive free gift. Then stop by their blogs for a coupon so you can
go shopping!

Speaking of shopping, our whole store (excluding current specials) is on sale for 30% off through July 31! Its time to stock up.
My Freebie is under the
Christmas In July
! Tab. Thanks for stopping by!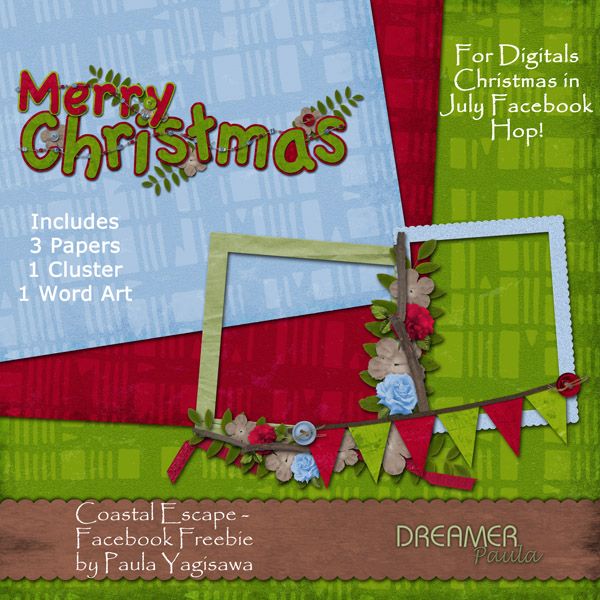 Facebook Hop:
Amanda Thorderson http://www.facebook.com/AmandaThordersonDesigns
Angie Young http://www.facebook.com/AngieYoungDesigns
Cindy Ritter https://www.facebook.com/pages/Cindy...33372810029413
Diana Burton http://www.facebook.com/pages/Digita...38863416172222
Elka Romero http://www.facebook.com/pages/-Elka-...35566699797377
Glenda Ketcham https://www.facebook.com/GlendaKetchamDesigns
Maddy Fernandez https://www.facebook.com/MaddysCreations
Nini's Notions http://www.facebook.com/pages/Ninis-...41854225879939
Pati Araujo https://www.facebook.com/pages/Pati-...51315768268103
Paula Yagisawa https://www.facebook.com/pages/Desig...26713860692438
Sarah Meyer http://www.facebook.com/sarahbdesigns
Vicky Day http://www.facebook.com/todays.scrap.fanpage

Blogs:
Amanda Thorderson: http://flamingo-amanda.blogspot.com/
Angie Young http://transforming-emerging-soaring.blogspot.com/
Cindy Ritter http://cindyritter.wordpress.com/
Diana Burton http://dbdesigns-scrapnmore.com/blog/
Elka Romero http://elkaromero.com/
Glenda Ketcham http://www.glendaketchamdesigns.blogspot.com/
Kathryn Estry http://kathrynsdigitaldesigns.blogspot.com/
Maddy Fernandez http://oilnwine.blogspot.com/
Nini's Notions http://ninisnews.blogspot.com/
P'tit Studio Katia www.scrapstreet.blogspot.com
Pati Araujo http://patiartedesign.blogspot.com/
Sarah Meyer http://blog.sarahbdesigns.net/
Vicky Day http://todaysscrapbyvickyday.blogspot.com/